USB and Other Plugs From Hell
Ever stab at a USB port, trying each side until one goes in? With that in mind…
I've never hated USB. I've just marveled that, for the companies that created it – all 7 of them – I didn't think it was possible to get wrong the ONE thing they shouldn't have gotten wrong: making the plug have an obvious up side, and an obvious down side.
I took two online polls, and, even among my fellow nerds (the people I polled), 40% said they didn't know what the up or down side was… and, among those who did, 50% said they still randomly try plugging in each side, until one goes in.
So, if only 30% of this tiny, elite tech crowd tries to plug in a USB port the proper way, I wonder what it's like for everyone ELSE.
Think about how this statistic would look up on a projector, in a USB development board meeting:
- 92% of all user attempts to plug in a USB device are done with no sense of what's up or down..
Someone would have to stand up in that meeting, and say, "We all need to go home, and try to remember who we're making this stuff for."
USB plugs have one major thing going for them: everything uses them. They're used by cell phones, cameras, tablets, external hard drives, printers/scanners, and just about anything that might need to transfer info with a computer. We like not having to go out and buy an adapter for things, because our computers and gadgets are already swimming in USB ports.
Now, as for the issues, I think people usually don't notice this stuff – or at least they don't give it deep thought when they do – but there's still more to be said about how low the USB companies went, when it came to the user experience. For example, tons of USB ports feel ANYTHING but smooth to plug stuff into. You're often pushing a metal rectangle into a slot that feels pretty uncertain that it wants anything there. (usually loose and wobbly) I wouldn't be surprised if this affects half of them. (Even 10% is absurd.)
And then you get issues like this, related to other companies:
And this:
Almost ALL rear USB ports are standing up on their sides.

 
The whole thing reminds me of this "Success Kid" meme I bumped into: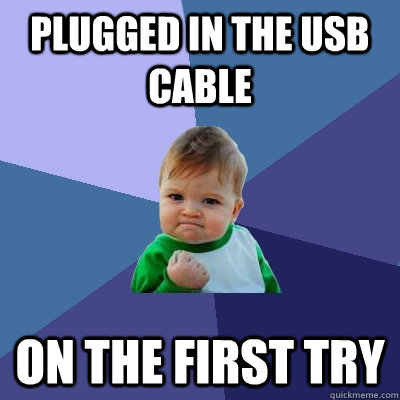 -
I hope we soon enter an era of plugs and other parts that are very well-designed, properly suited for people… surprisingly, unlike Apple's unfriendly, gigantic iPhone/iPod plug:
(The newest one they're using is shorter, but still wide like that.) I think most people can tell the iPhone plug's up from its down better (its marking on the "up" side seems to be noticed and understood a lot more), but it's another example of a plug that, while people get used to it, simply could have been a lot better. Still, Apple IS undoubtedly the torch-bearer for good product design, so you couldn't dare say that they don't do design well, overall.
Update, Sept 12, 2012: Apple has switched to a much, much smaller plug, which is reversible, so you can't plug it in wrong:

                         
Here's about 2 hours worth of work, to try to design some kind of USB-like universal plug, just to make a point:
(click image for larger view)
It's inspired by the deathly-simple headphone/speaker jack; just a rod, with no up or down, and insane durability (it won't snap off if you step on it, like a USB head). It's shaped like a tube, so that the port (right) is instantly distinguishable from headphone/speaker ports. (in the diagram, you can see a metal circle sitting in the port opening). It's meant to be super tiny – about the same size as a headphone jack – able to fit into the most overly thin smartphone.
In the center diagram, you can see that I also toyed with the idea of a swivel handle that can face any direction. With this, you can force the wires coming out of your phone/computer/etc to immediate run a certain direction, rather than having them sticking out into the open. The thick, stubborn wires coming out of the back of a computer often stick way out, stopping you from pressing your computer back against a wall. (Of course, a swivel head like this adds 1 nano-cent to overall costs, so you'll never see it used. Hence the one on the left.)
Anyway, it's just an idea. I call it a Z-port, for "zebra", since it has stripes. The plug itself would be called a Z-plug, and the logo could be a lightning-bolt 'Z', perhaps like this Winamp logo here:
—
And now we cross into plugs that are PAINFUL.
(No, seriously… last time I opened my computer, I came out with several small cuts, and raw, chaffed knuckles.)
Computers are the Hell of plug design. It's horrible, because you would think that computers are the central nexus of all that we consider "high tech"… you know, we think of the labs where computer stuff is designed as NASA-like places where they put brilliance in the coffee, and genius is a snack at the vending machines… yet computers are held together by many parts that are some of the worst-designed things you could imagine. And certainly not just plugs.
(Once, I read through a roundup review of tons of processor cooling units – like fans and heatsinks – and a HUGE number of them were canceled from the review; the reviewer simply wouldn't finish testing them, because they were such garbage, they were a threat to computers, and even your hands. Among these were brands that techies usually trust, just that the quality produced from one product to the next is so inconsistent, it's like they put each design into a randomizer, and use ANYTHING that comes out…)
Even motherboards are often suspect…
A motherboard (the largest chip in a computer) can be easy to work with. You could probably learn how to plug everything into one in about ten minutes, on YouTube… but some motherboard designs are just insulting to anyone who buys them. If you get the wrong board, watch out: I've seen more motherboards with the SATA ports right behind the video card than I have fingers on both hands. (If you don't follow, that's like putting the glove box in your car right behind the accelerator.)
SATA cables carry info from the hard drive and DVD drives to the motherboard. At first, I was stoked that they replaced the large IDE ribbon cables that we used to have, but the ones in my computer are seriously so loose, that two different ones have slipped out, by themselves, several times… plus 2 complimentary slip-outs EVERY time I install something new around my hard drives. Today, anything is better than the old ribbon cables, but, seriously, if the makers of SATA knew it was to become the new standard, shouldn't they have made it a LOT better for us people to actually use?
Speaking of things that remind you of Satan… This below is the Molex connector; the plug first requested by the prince of darkness himself, in order to become one of the most effective generators of stress/frustration in the 20th century.
See, I'd say that 1/2 of all Molex connectors are very difficult to pull out, with 1-in-4 being like AAARGH to pull out, and 1-in-10 just not coming out. Period.
Plugging them in can also be a nightmare, just a little less often. In the pic above, look at the metal pipe things that sit in 4 hole. They wobble like CRAZY, and are sometimes are so disoriented – looking out at you like little googly-eyes – that they don't let anything go in. (so, you have to use a screwdriver, or something, to straighten them yourself.) Was it so hard to make the opening surrounding the metal things a little smaller, so that those pipe things couldn't move around? I'm sure there's some brainless adjustment (or 3) that well-intentioned employees at Molex have pitched, which were simply never okayed. I hope they realize that I WOULD pay the extra nano-cent for a better Molex plug.
The other half of Satan's plot with these was to cause widespread deforestation, as system-builders all over the world mailed paper death-threats to the clowns on top at Molex (having to forego email for paper, due to having launched their computers through their windows).
Right now, at this very moment, there are maybe 40,000 system-builders out there, imagining that they are doing this…
When companies do things like this, it's very important for people to know about it, because the public holding a gun to a company's public image forces them to at least try harder.
Now, one might wonder if holding a gun like this would have much effect, because you might think that a company only has to worry if its image looks worse than its competitors', whereas here, almost ALL computer companies would be labeled together… meaning there wouldn't be any one of them that stands out, taking the hit. That's true, but there's more to the picture… See, I believe that competition in the business world isn't ONLY about companies competing with their immediate rivals – it's not just Microsoft vs. Apple – it's also about companies competing with other industries, trying to get peoples' attention off one type of product, onto another. (so, it's Microsoft and Apple vs. TV makers and car companies)
A person who doesn't care about cars usually will be happy with one that works… whereas someone who loves them will probably invest his surplus cash into getting something nice (even if the existence of that surplus cash is sometimes still up for debate). What I think, and what computer companies don't seem to realize, is that people giving even SOME hobby-status to owning nicer cars is a direct assault on computers, and things that nerds will argue have more purpose in life.
The idea here is that if companies can actually release products that are likable enough to divert peoples' attention away from other things, not only will more money be made, but the improvements put into the products will result in the world having less trash and unhappy experiences to push through. (Junk computer products slow down the progress of both the high-tech world and the developing world.)
I think the target achievement for the computer industry here should be to greatly enlarge the overall "hobby status" of computers, changing them from something that the average person thinks of more as a curiosity, to something that actually excites them, and gets them into it – like computer enthusiasts are. (Apple does this very well, just that only a microscopic fraction of the world population can even afford their stuff.)
So, I think companies believe too strongly that business is a game of poker against other similar companies, when, more than that, it's a contest of positive psychology against other industries.  It seems to me that most companies either have no concept of how positive input guides peoples' desires, or they just make it look like they don't. (The direction coming from their board rooms is often just really off-target, in my personal opinion. If you follow tech news, you can see the vast multitude of company practices that just don't end up working.) (It's also possible for companies to fully understand the concept of positive psychology, and think they're followers, but not actually materialize the belief. Sometimes, you're too distracted by other ideas to really put much thought on certain things, even if you would normally think they're really important. It's like when a parent believes that junk food and sugar snacks could very well shave off 10 years off the lives of all of their kids – and themselves – yet they can't find the motivation to really think into that, and realize what it all MEANS. Had such a person ever seen the end, their mindset would've become fanatically careful… but, instead, their beliefs don't materialize. (this is a "thought sickness" that plagues ALL people, but in different areas. Right now, there are MANY things that you believe, without materializing.))
-
You'll notice that I take a stance in favor of computers vs. most other industries. The reason for this is that I believe computers have an incredibly important role to play in the upcoming times, when people will actually start to understand their depth and use. (today, computers at home are largely used as little more than email and YouTube machines… and when I say YouTube, I don't mean the useful "how to do stuff" videos, but the "people being stupid" videos.) Also, for the developing world, I personally think that computers will probably be second only to psychology in helping many countries get on their feet. (those two areas – technology and psychology – are prime things that I strongly advocate moving forward…)
For reference, consider this: Right now, 85% of the world population lives in a developing country… and only 5% of households worldwide own a computer. For things to improve, technology is needed out there like plants need water.
__________________________________________________________________________________________________________
- All Alphaila content can be re-posted and sent around freely, without permission. See FAQ page.  
- Get my free wallpaper pack   |   About the author